How fascinating - an accordion shop in the middle of nowhere. I've read a bit about her background and she sounds like a very interesting person (will likely read more about her later on, as I am kind of hooked). Unfortunately, I can't quite reach her as the shop is too far away for me. But I really appreciate the lead 96Bass.
There are tons of YouTube videos that show how to do single task repairs and such on the accordion. Some are good. Some are not so good. Is there some sort of structured video course for accordion repair online somewhere? Even though it would not be as good as an inperson course, it would be very helpful for the hobbyist. I think about buying an eBay accordion to overhaul. I just don't know how realistic it it is for a goal.
It's quite a bit away from you but there's an accordion shop known as Liberty Bellows located in Philadelphia. From their website, they are apparently hiring apprentice technicians. "Prior experience is helpful but not necessary as we provide all on-the-job training."
The old and broken accordion I ordered online has finally arrived. It cost 9 dollars (plus a whole lot of shipping...). It has a woody smell, as if I was inside an old library. I wonder how old is it? The leather straps are all broken so they'll need to get replaced if I want to strap it around my body. The keys and bass buttons seem to be in relatively good condition, but could still benefit from tweaking. I felt a bunch of air on me as I pressed the bellows. It turns out that part of the wooden flap structure on the key side was loose and tearing off, letting a bunch of air escape.
The bellows themselves seem pretty good - I saw no holes or tears on them, nor did I feel any air leaking through them. Now the big question is, did the accordion make sound when the buttons were pressed down? It does make some shallow sounds, but only when you press down on the wooden part that is tearing off to prevent air from escaping from it. Some notes and chords struggled more than others to produce sound. There are some apparent problems with the reeds inside as I discovered when I disassembled it.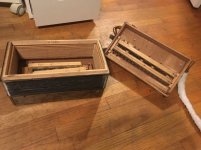 Is that hot glue that the previous owner used? I know we're supposed to use special beeswax. The reed blocks also don't seem to be aligned with the holes below them. I'm assuming they have to be aligned to produce the proper sound. The leather strips covering the metal brackets are also old and droopy.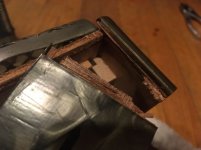 As I was putting the accordion back together, the faulty wooden flap structure fell or broke off. I wonder if the wood is all rotten. I managed to force it back in as I put everything back together.
I guess I'll try to figure things on my own from here with lots of reading and watching videos.