I am busy redoing my Hohner Morino IV M. It is the older version that has a bass cassotto. In this system 3 of the 4 bass octaves have individual pallets for each note.
I'm trying to find out if it is possible to buy pre-cut, round leather/felt for this. I'm pretty sure all modern instruments use rectangular pallets, so I suspect this might be wishful thinking. I had a look at a couple of well known online sellers and they only have sheets or pre-cut rectangles (Charlie Marshall, FRM Enterprises, Strings&Boxes, Hohner C-Shop, Carini). I could've missed something, but I don't think so.
I don't have calipers, but here are the approximate dimensions.
Diameter: 16.5mm
Thickness: 2mm (for the leather/felt and it has very little compression left)
It is a weird combo of leather and felt, and then it has an unknown hard layer (not wood) and then a layer of harder leather (almost like reed valve leather). I don't know if the last 2 layers served any real purpose and if that was just what they thought made sense at the time. I am not necessarily expecting to find that - I am just interested in the typical leather/felt layer.
I tried hacking together something to see what's possible using dowels, ice cream tub plastic, felt and (pig) chamois.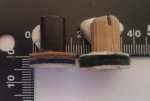 That hack job probably isn't a good idea and if I have to go that route I'll just buy the proper sheets and cut it myself. However, it's not the easiest thing to cut proper circles in leather/felt.