Hiya Folks,
I've found the full score for Reine de Musette in Accordeon Facile volume 1 and there's a couple of bits where I don't understand the notation.
(key is A major / F# minor).
1) Bass note in brackets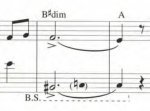 What do the brackets mean on the C natural ?
There are other places with 'double voicing' on the bass, but B# is C natural anyway.
2) G7 or not G7
Any idea why Bm5natural is matched with Sol7 ?
Cheers,
Gareth