First - let me compliment you all for having such a knowledgeable and engaged community! I've been lurking around here for a bit and am impressed with everyone's willingness to help others.
My father was an amazing, life long accordian player who used his talents to bring joy to many people over many years. He started playing around age 10, and continued until his recent passing at age 83 this year.
He had several accordians, but the subject of this post seems to be the oldest of the group. I can't find any manufacturer markings or plates on the instrument. It seems to be in pretty rough shape cosmetically, but it seems to play just fine. There are no electronic pick-ups on this instrument.
I'm attaching some pictures for reference and would appreciate any assistance you can provide. Please go easy on me - I was just the drummer so I never had to worry about chords or melodies. Now that Dad is gone I'm regretting not having learned more about his passion!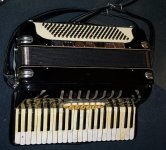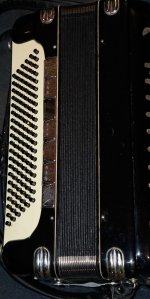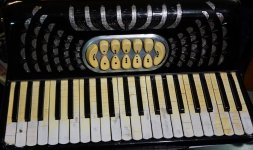 If there are any other views that you think might be helpful please let me know!
Thanks in advance for looking at this! My best to all -
Paul Jr.