I have an accordion that is badged Excelsior and it also has an A by Excelsior emblem. Do I have an Excelsior Model 320 or a Custom Accordiana Model 320 with tone modulator (vibrato reed)? I have yet to find any picture or mention of an Accordiana with a tone modulator. Is there any difference in the E badging vs the A badging?
Is there a difference in Excelsior 320 vs Accordiana 320?
Full Disclosure:
I am going to sell it and I want to be as forthright as possible in the description and representation. An also learn more about the various models.
Thanks
https://lh3.googleusercontent.com/X...NO1bSbmltMeXwYxsNjJ0ncw8zabyhHW=w1239-h929-no
>
https://lh3.googleusercontent.com/2...1NSP4nK05-Uq0PQxVIhGwAhVAXyjG-P=w1362-h767-no
>
https://lh3.googleusercontent.com/x...wpf3xcvbIzYrrksZIjw4PomtF9XD0K6=w1239-h929-no
>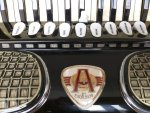 https://lh3.googleusercontent.com/r...aqQXxvj7kMUicKa4vCCG__XYVseJA5g=w1239-h929-no
>
https://lh3.googleusercontent.com/t...7nJsaGTTbO5G3uJuw5m5bTpW2aPpTbd=w1239-h929-no
>
https://lh3.googleusercontent.com/0...mxyy3--IxDZSkFO3TTF46Z13jv9dzIeo=w697-h929-no
>