Joined

Mar 20, 2021
Messages

94
Reaction score

60
Location
I just tried running my BK-7m from a Ravpower powerbank and a 5v usb to 9v converter. So far, seems to work great. I still need to test it for duration but the same setup running my pedal board with 3 pedals and some other stuff on it runs fine for several hours so I have no reason to believe this will not be usable for longer than I can play! My bk is on a stand so time to fire up the 3d printer and make a mount and it'll be one less wire/plug to worry about.
This is the converter I used: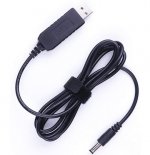 https://www.amazon.com/gp/product/B07GD54Q66/ref=ppx_yo_dt_b_asin_title_o06_s00?ie=UTF8&psc=1
It also occurs to me that if I hooked up the BK outputs to a 2 into one (mini TRS) adapter I could plug that into the Roland's audio input jack and play the backing stuff through the Roland's speakers.