Hello! I've had this issue with my bass registers for a long time, but I decided to try and fix it. So on my Weltmeister Supita sometimes, not always, when I press the registers without basses (the ones that should deactivate the low bass reeds), they don't manage to get deactivated and still continue to sound, as if I hadn't pressed a register that should exclude the bass reeds. So my bass side looks exactly like this:
The interesting thing that I found is that if I turn the accordion upside down, this problem dissapears, no matter how many times I try to duplicate the problem, it doesn't work, the right register is activated always in this position. So somehow gravity helps it in the upside down position, and gets in the way of it in the playing position. I disassembled the accordion and tried to see how the orange plastic sliders are moving in there when I press the register buttons in the different positions. But I saw absolutely nothing wrong - no matter the position, playing or upside down, everything seems to move fine and in the absolute same manner. The only manageable thing that I saw in there was this screw: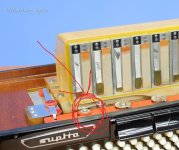 I have tightened it a little bit and things seemed to have worsened, so then I unscrewed it a bit and things are somewhat better, but still I don't know when this will happen during a performance (for example I switch registers in Handel's Sarabande from bass to non bass and it doesn't always work, so the whole piece is messed up if this happens
). And apart from that, I don't even know if this screw has anything to do with the problem or if it was just a coincidence. It's strange that when this happens, the only way to activate the non bass registers, which are 2, is to press the Master, and then press one of them. And also, when they do manage to get activated, they have to be pressed really hard down, otherwise you can hear some air escaping, along with the sounding tone. It's a relatively minor issue, since it's really a problem only when I'm changing registers during a piece, but anyway, any ideas?
Last edited: